After months of speculation and rumours the iPhone 5s has officially gone on sale. With rivals such as Samsung it was almost imperative that Apple released something spectacular to win back customers from rivals. And yes… they have!
"After months of speculation and rumours the iPhone 5s has officially gone on sale"
Touch ID
Your iPhone is personal to you, Apple have always tried to portray this with the idea of touch. With the iPhone 5s they have taken this to the next level with Touch ID. Integrated into the home button is a detection device that recognises you instead of relying on you to memorise passwords.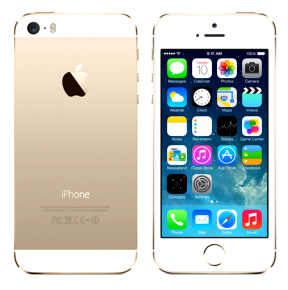 A7 Processor
With the new superfast A7 processor you can notice a remarkable difference in performance and graphics; everything is so much faster and life like!
It also has a motion detector – If it senses no movement for a long period of time it will save power by not checking with the network as often.
iOS7 – New Design & Feature
It's safe to say iOS7 is considerably different to every other iOS update. The re-design is fresh and desirable but as we know so well Apples products aren't just about looking great!
Apple have taken the simplistic route, everything you could possibly need in an instant is right at your figure tips.
Notification centre keeps you up-to-date with your day; whether it's your missed calls, messages or appointments your iPhone will now summarise your day so you don't have too!
Multitasking is a necessity in our everyday life, just press the home button twice and preview screens of all the apps you have open. To close just swipe your figure up the screen.
Air Drop allows you to quickly send photos, videos and many other things to people you are with at that time, and all at the touch of a button. It's simple just click share and select your contact!
Don't forget about your all-important photos! If there's a memorable moment in your life or if you're just like me and love taking photos, you can grantee you'll love looking through them too. Take a stroll down memory lane, Apple have devised a clever way of organising your photos and not only this you now have a number of different filters so you can get creative with different shooting formats.
Posted on Friday, September 20th, 2013 in Latest News.