Mobile
Applications
At Maxweb we specialise in mobile, desktop and tablet app development. Our experienced team of app developers are able to create apps for most of the popular mobile app platforms including Android and iPhone / iPad (iOS).
Our apps are 100% bespoke to your needs and are coded using the latest technologies. In the past we've created apps for national food outlets, recruitment companies, estate agents, educational organisations and law firms.
Since your users will be accessing the app on a variety of different mobile devices, we're able to code your app in multiple programming languages so that your app may be enjoyed by everyone.
Our mobile app skills allow you to create a stunning yet highly functional mobile application for your business or organisation. Our team of mobile app developers are based in Wirral and Liverpool. However, our mobile app clients are based throughout the United Kingdom.
Apps we've developed in the past
Over the last five years we've developed hundreds of bespoke mobile and desktop applications. Below we list some of the categories of apps we have created for our clients:
Social apps
Gaming apps
Restaurant apps
Recruitment apps
Productivity apps
B2B apps
Healthcare apps
Our workflow
Before your app development begins you will be assigned an experienced project manager. A detailed discovery process is implement to ensure we understand your exact app requirements.
Here we will work with you to understand your app's objectives and the KPI's in measuring future performance. Here we set out and research:
The Objectives of the App
The App's Users
The Competition
Suitable Mobile Platform
Once we've captured your specific app requirements a brief is sent over to our app design and UX teams. We design apps that are easy to use with maximum visual appeal when viewed on mobile devices. We also ensure your app embodies your core brand values.
Wireframing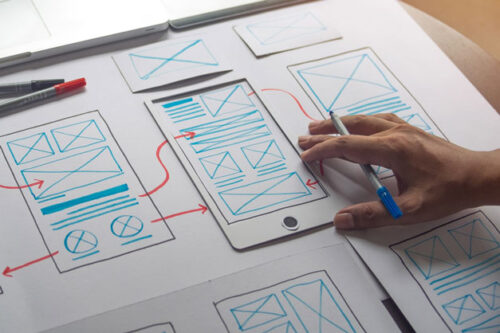 We now begin to wireframe you App. Here we experiment with the general design of your site based on what we have learnt.
User Experience and ease of navigation are key components to your new application and here we can visualise the skeleton and map out how user's will interact and navigate through your content.
Wireframing is key as we can map out and plan the structure of the app in isolation.
Your app will promote your brand and vision, before we start the design phase we make sure we have the structure correct ensuring the foundations of usability and accessibility are in place.
Prototype Design
After your website has a wire frame in place we will then design a prototype with visuals to be sent for you approval. Here we add colours, images and styles to really start to let your brand shine through.
We also design any product features or booking element's that your app will need to convert visitors into customers. After you are perfectly happy with the app we then begin the development stage where we bring your creation to life and put it through our rigorous testing procedures.
Upon completion, your app will be uploaded to both the Apple App Store and Google Play.
Contact Maxweb Today
If you require app development then contact our team today on 0151 652 4777 or contact us. We offer a bespoke app development service you can rely on. This service is ideal for businesses located in Liverpool, Wirral, Chester, Manchester or North Wales. We are located in Birkenhead, Merseyside.